RECYCLING WORN-OUT PROFESSIONAL CLOTHING
COMMITMENT N°7 - ENVIRONNEMENT

CEPOVETT has made recycling and the end of textile products' life cycle a priority in its CSR policy.
We offer innovative, tailor-made, socio-economic and environmental solutions with our leading partners. We collect, mass-market and recycle work clothing at the end of its life cycle through the implementation of textile recycling operations for the community. This recycling applies particularly to re-use in France or abroad, and unravelling fabric to create thermal and acoustic insulation for the automotive and housing industries.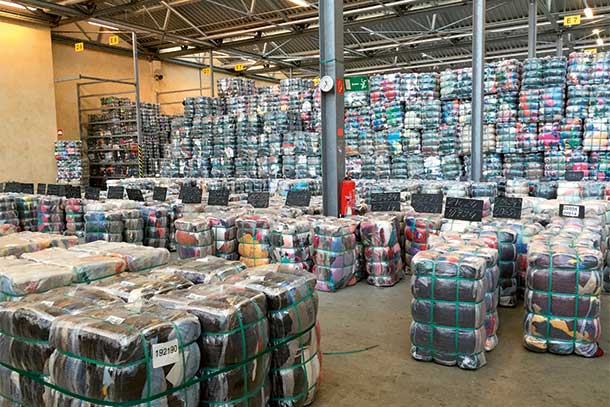 50%

Raising awareness of the circular economy70%

Experimenting with recycling solutions60%
---
Corporate upcycling, a path to the future
Corporate upcycling is an innovative and symbolic approach to the circular economy, based on recycling, social integration and community re-use, which enables companies to demonstrate their waste strategy while meeting their CSR challenges.
The goal is to transform used clothing into meaningful and desirable professional accessories. More and more companies are launching projects in this direction aimed at upgrading their staff's professional uniforms or textiles by turning them into useful objects. This approach is often paired with collaboration with adapted workshops, in partnership with agencies working for social reintegration and inclusion.
"Nowadays, all businesses, whether large, medium or small, are having to make changes to their activities in order to serve the public interest, which is ultimately in their own interest. The Global Compact France ambassador companies distinguish themselves by their ability to understand the environmental and social issues of our time, and to transform them into economic opportunities. They are also the spearheads of the Global Compact France in their territories, and contribute to building a more sustainable world."

"Gaining a new client is like stepping onto the podium in a sports competition. Employee and runner share the same state of mind, the same taste for effort, the fighting spirit, and challenges: setting goals individually and collectively, then surpassing ourselves to achieve them. "

"It is much easier to manufacture a cloth mask than make a pilot shirt or assemble an item of workwear, which require millimetric precision. The challenge is first and foremost to show solidarity in order to support the medical teams, local authorities and our staff in the face of the Covid-19 pandemic spreading across Africa."

"Together we have created on-trend smart products as part of a meaningful range which gives the wearer an undeniable advantage, in terms of ergonomics as well as ethics. Our aim at EPI Center is to keep on pushing back the limits of our products' environmental impact and technical performance."

"Preservation of natural ecosystems, water resources and all living organisms is a major challenge in our textile business as well as in the private sphere. There are no big or small actions, only beneficial actions. We work jointly with our industrial partners and employees alike, as part of our drive for progress, awareness-raising and ISO 14001 environmental management."

"It is our individual and collective responsibility to take action to preserve our island, Madagascar. Today, I am proud to be planting these - Trees of Life - on our family's land, after being given them by the EPSILON company. In a few years, I certainly hope to have grown some nice fruit to share with my family or sell on the market."

"This Boxtextile Recyclovetttm is an innovative recycling concept for our distributor customers that perfectly reflects our ambition to involve our product users in this virtuous approach. Our innovative solution allows our customers to recycle 100% of the textile PPE that they use. "

"This workplace chicken coop is an original idea and shows us the importance of well-being. I am delighted to be able to make my omelette with fresh eggs from the company's free-range hens. It really makes us aware of what hens eat as well as the need to combat food waste."

"Our design studio has applied all of its expertise gained in the protective clothing sector in order to design, and validate with the DGA (French Directorate General of Armaments) and the IFTH (French Institute of Textiles and Clothing), a consumer range of 100% woven fabric masks: a high-performance technical solution that brings safety and comfort to users."

"Environmental issues and our actions in the circular economy form one of the main areas of our strategic plan. Our image-building outfits are part of this approach: we favour outfits made from certified raw materials. By collecting and then recycling them, we can turn them into new products for us to re-use."

"The work-study program is a major asset that allows you to obtain your diploma and acquire your first professional experience simultaneously. In the digital field, it's important to put your knowledge into practice right away, as the sector is evolving extremely quickly. This means I can learn theory at school and apply this knowledge in the field while working on full and varied projects."

"The close cooperation between CEPOVETT Group-Epsilon and W.L. Gore & Associates, which owns the GORE-TEX brand, allows us to develop and certify Epsilon Madagascar for the manufacture of protective clothing. The technical products are manufactured to meet the most complex needs and highest expectations of professionals in the field."

"We're delighted with our collaboration with CEPOVETT Group professional clothing. We now have a specialised and high quality collection that represents Courchevel 185 perfectly. It's both ultra-technical and highly stylish, which is in line with our international clientele. With this new outfit, we want to convey a strong message to make our customers aware of the importance of environmental protection."

"Our commitment to Malagasy companies reaffirms Total Madagascar's promise to accelerate the ecological and economic turnaround of new energies, including solar energy. The project with EPSILON on the island of Madagascar is a good illustration of this."

"As an extension of our 2030 reforestation program, Cepovett is reaffirming its desire to plant near its various industrial activity zones, particularly in Madagascar and now in France. Choosing to plant in a forest in the Rhône-Alpes region is a strong symbol of a mobilisation against global warming in our field, and promotes the preservation of biodiversity."

"Our first initiative carried out in collaboration with CEPOVETT Safety is a first step towards our ambition to recycle 100% of our professional textiles in a circular economy. This pilot project conducted with CEPOVETT Group, enabled us to recycle more than 25% of our work clothes and raise awareness among all our sites and staff about sorting and recovery procedures. All in all a big success !"

"It's just incredible to imagine producing honey on the rooftops of Paris; we're welcoming nature into the city. I'm delighted to be part of this collaborative and meaningful project that highlights the importance of environmental conservation, and the responsibility the present generations have towards the future generations."

"Responsible purchasing is becoming a prerequisite in the way we buy, both to reduce risks and to meet the ethical requirements of our key account customers who are concerned by the duty of care law. The opportunity to progress hand in hand with our internal teams, purchasing, HSQE, operations, CSR and our production workshops."

"Recycling is essential to reducing our impact on ecosystems. Here we manufacture technical and ethical clothing, we measure the benefits of our programmes on overall quality, both economically, socially and environmentally, on a daily basis."

"Since CSR has been an integral part of purchasing policies, relations between big groups and SMBs have begun to change from customer-supplier relationships into partnerships that allow for co-innovation with a positive environmental, social, and economic impact for the field. Let's raise the bar!"

"I thank all of those who have welcomed me with so much respect and in a fraternal spirit and who have generously given financial support to allow us to continue this miracle at Akamasoa for 24 years. With these donations, we can offer the children of Madagascar a better future and we can involve them in protecting our planet."

"We are proud to be able to share our ethical vision and inclusive production model, as an adapted business in Ukraine, with our customer, CEPOVETT Group. One of our strengths is our ability to develop and empower employees disabilities, while ensuring the sustained performance of our manufacturing workshops. This project means a lot to us and our customers."

"Between ethics and aesthetics, art and life sciences, this innovative and meaningful initiative draws on many art disciplines to change our perception of nature. Bees are at risk of extinction, so it was obviously important for me to symbolically represent and highlight their plight and to decorate their homes by painting the walls. I thought of a panda, which is a protected species, as "a guard of the apiary", itself acting as a protector. It carries a message of solidarity and communion between species".

"At AccorHotels, we are committed to providing a positive hotel experience by innovating with our partners and suppliers. The joint initiative with CEPOVETT Group and our Novotel colleagues in Spain and Portugal underline our ambition to design new positive and responsible models. Giving new life to an item like used uniforms and converting them into kitchen aprons represents a step forward for the circular economy and is gratifying for our staff, as well as being of interest to our guests."

"In Madagascar, the forests are endangered. This urgent situation has led us to step up our involvement through our reforestation programme, which began four years ago, by planting varieties of fruit trees to generate additional income for local communities. The involvement of our staff on this collaborative project has allowed us to play an active role and to stress the importance of protecting the local environment for future generations".

"By replacing conventional cotton with linen, Lafont has taken a further step toward local sourcing: the flax is grown in the north of France, woven and dyed in Laval and the final product is manufactured in the CEPOVETT Group workshop in Saint-Étienne. This exemplary manufacturing value chain is a testament to the French expertise that has long been a hallmark of the brand: producing ethical, responsible and well-designed occupational clothing."

"Care of SNCF uniforms, in particular Personal Protective Equipment (PPE), is a key issue from a regulatory, economic and staff welfare perspective. Professional cleaning is preferred as it ensures that outfits are safely cleaned given the often high levels of dirt and grime. Home care must be ruled out due to the risk of contaminating household laundry. We work closely with our partners at all stages of the process, as well as our manufacturer regarding fabric selection to prolong the life of clothes, through to applying the correct care solution."

"Completion of a prototype is a key project milestone in occupational clothing production. The experience and expertise of our technical teams ensure that we can optimise workshop output in the shortest time. We are the guarantors of the whole industrialisation process thanks to our close partnerships with manufacturers, who are involved right from the start of a project and throughout the prototype development process until delivery."

"The CEPOVETT Group head office extension project reflects an architectural vision that is mindful of the well-being of staff and optimising space and movement. The choice of high-quality, recyclable materials such as wood, glass, metal and concrete offer good light transmission and high thermal and acoustic performance. The addition of a forest ecosystem in the building's central patio also perfectly captures the company's principles: sustainability, naturalness, interdependence, alignment of mind and body and consideration for the well-being of all."

"Large companies may outsource up to 80% of their business to other companies, particularly SMEs. For years, their relationships with suppliers were built largely on mistrust and a 'zero sum' mentality, driven solely by purchase prices. Nowadays, the role of CSR in influencing larger companies' procurement decisions has gradually instilled trust in its relationships with SMEs, and not before time!"
OUR CSR ACTIONS
COMMITMENTS & PROJECTS
A CSR POLICY
THAT SERVES OUR COMPANY'S OVERALL PERFORMANCE

For many years, CEPOVETT Group has placed sustainable development at the heart of its business strategy, operational processes and systems, underlining a commitment to socially and economically responsible occupational clothing.

---
A new textile economy
Launching the «recycled clothing» concept
Development objectives
2020

---
Sustainable consumption
Making our stakeholders aware of the circular economy

---
Recoverables
Identifying new recycling solutions