RECYCLING WORN-OUT PROFESSIONAL CLOTHING
COMMITMENT N°7 - ENVIRONNEMENT

CEPOVETT has made recycling and the end of textile products' life cycle a priority in its CSR policy.
We offer innovative, tailor-made, socio-economic and environmental solutions with our leading partners. We collect, mass-market and recycle work clothing at the end of its life cycle through the implementation of textile recycling operations for the community. This recycling applies particularly to re-use in France or abroad, and unravelling fabric to create thermal and acoustic insulation for the automotive and housing industries.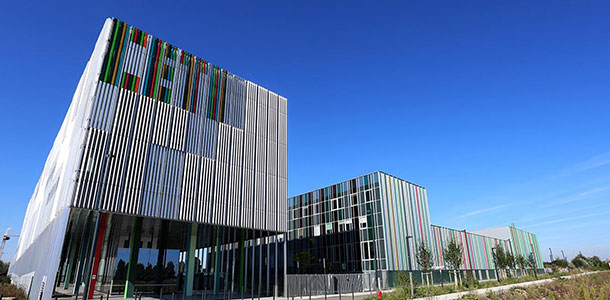 ---
Ceti: a research centre dedicated to the textile sector
CETI, the European Centre for Innovative Textiles, is a research and innovation centre, supported by the Up-Tex competitiveness cluster, which aims to boost the textile sector.
CETI, created in 2012 thanks to the mobilization of players in the sector and financial support from the State, Lille Metropole Urban Community, the Nord Pas-de-Calais Region, Europe and the Nord Department, is committed to companies to promote and boost innovation. It is a space for designing, experimenting, prototyping and industrializing new products, materials and processes tailored to industry needs. It works with fashion, sports, luxury and technical-textile producers, leading brands and distributors. Its international scope ranks it as one of the world's top five technical centres. As part of its co-creation strategy, CETI integrates the digital aspect by making textiles a vector of innovation.
"Since 2015, the circular economy has been central to the CEPOVETT Group's vision of new business models, from experimentation to change-of-scale, it invites us to rethink our production methods and services in order to reduce the use of resources: today CEPOVETT invents circular workwear."

"This Boxtextile Recyclovetttm is an innovative recycling concept for our distributor customers that perfectly reflects our ambition to involve our product users in this virtuous approach. Our innovative solution allows our customers to recycle 100% of the textile PPE that they use. "

"Our first initiative carried out in collaboration with CEPOVETT Safety is a first step towards our ambition to recycle 100% of our professional textiles in a circular economy. This pilot project conducted with CEPOVETT Group, enabled us to recycle more than 25% of our work clothes and raise awareness among all our sites and staff about sorting and recovery procedures. All in all a big success !"

"At AccorHotels, we are committed to providing a positive hotel experience by innovating with our partners and suppliers. The joint initiative with CEPOVETT Group and our Novotel colleagues in Spain and Portugal underline our ambition to design new positive and responsible models. Giving new life to an item like used uniforms and converting them into kitchen aprons represents a step forward for the circular economy and is gratifying for our staff, as well as being of interest to our guests."
OUR CSR ACTIONS
COMMITMENTS & PROJECTS
A CSR POLICY
THAT SERVES OUR COMPANY'S OVERALL PERFORMANCE
For many years, CEPOVETT Group has placed sustainable development at the heart of its business strategy, operational processes and systems, underlining a commitment to socially and economically responsible occupational clothing.

---
A new textile economy
Launching the «recycled clothing» concept

---
Sustainable consumption
Making our stakeholders aware of the circular economy

---
Recoverables
Identifying new recycling solutions