GAUGING AND REDUCING OUR ENVIRONMENTAL
COMMITMENT N°5 - ENVIRONMENT

CEPOVETT's innovative approach
CEPOVETT's innovative approach within the professional textile sector is based on a product life cycle analysis that aims to measure and reduce its environmental impacts and limit the materials used, while offering its customers environmentally responsible alternatives. This multi-criteria approach, linked to the specific social and environmental issues of its activities, generates useful information that assists our stakeholders in the decision-making process.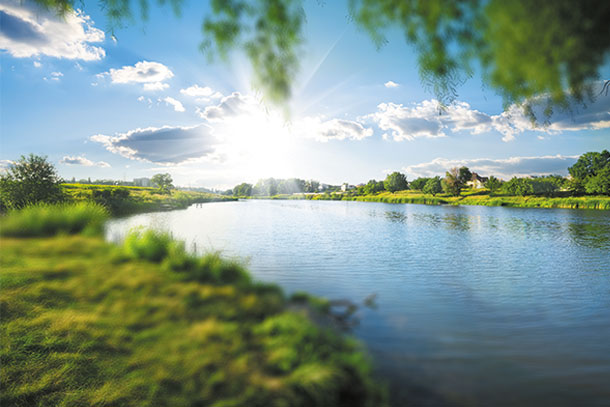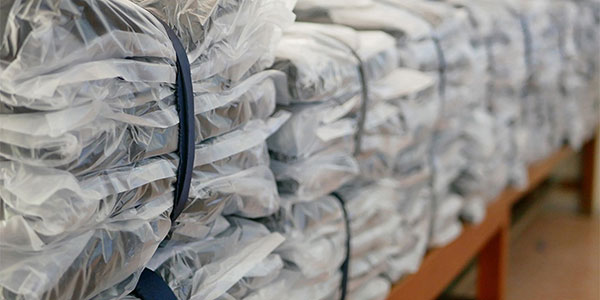 "Made in Auvergne Rhône-Alpes" ecodesigned polybags
We manufacture our eco-designed plastic polybags, made from 90% recycled materials, in the Haute-Loire region of France, a hub of French plastic processing industry and flagship of French industrial excellence.
CEPOVETT sources and uses a groundbreaking technological solution that can replace conventional plastic. A procurement approach that promotes local through the choice of a factory located in the Rhône-Alpes basin, a region where the company has been historically present since its creation. This groundbreaking technology reduces the use of one-shot plastic packaging that protects garments during shipment from manufacturing facilities to warehouses and replaces it with recyclable, eco-friendly, environmentally-sound products that meet textile industry needs. Through this promising initiative, CEPOVETT confirms its local foothold and its determination to implement the most cutting-edge technologies to make its business more virtuous.
"The buyer's job now integrates the ethical aspect into the qualitycost- leadtime trio. Being a responsible buyer means favouring responsible, recycled materials, referencing local suppliers, working together sustainably, whilst ensuring price performance: a daily challenge."

"We're particularly proud that our first partnership in Madagascar for a hybrid solar installation was concluded in 2020, with Epsilon. Epsilon has been an acknowledged player and pioneer in the Madagascan fabric for many years for its responsible approach, its desire to minimize its footprint on the environment, as well as its commitment to local communities. Really, really well done and thank you so much for your trust."

"Preservation of natural ecosystems, water resources and all living organisms is a major challenge in our textile business as well as in the private sphere. There are no big or small actions, only beneficial actions. We work jointly with our industrial partners and employees alike, as part of our drive for progress, awareness-raising and ISO 14001 environmental management."

"Our commitment to Malagasy companies reaffirms Total Madagascar's promise to accelerate the ecological and economic turnaround of new energies, including solar energy. The project with EPSILON on the island of Madagascar is a good illustration of this."

"Care of SNCF uniforms, in particular Personal Protective Equipment (PPE), is a key issue from a regulatory, economic and staff welfare perspective. Professional cleaning is preferred as it ensures that outfits are safely cleaned given the often high levels of dirt and grime. Home care must be ruled out due to the risk of contaminating household laundry. We work closely with our partners at all stages of the process, as well as our manufacturer regarding fabric selection to prolong the life of clothes, through to applying the correct care solution."
OUR CSR ACTIONS
COMMITMENTS & PROJECTS
A CSR POLICY
THAT SERVES OUR COMPANY'S OVERALL PERFORMANCE
For many years, CEPOVETT Group has placed sustainable development at the heart of its business strategy, operational processes and systems, underlining a commitment to socially and economically responsible occupational clothing.

---
To warn
Favour recycled polyeste

---
Recycle and sort
Launch of the ecoactions initiative

---
Adopt the good habits every day
100% of waste recycled