ACTIVELY OFFSETTING OUR NEGATIVE EXTERNALITIES
COMMITMENT N°6 - ENVIRONNEMENT

Making a commitment to fighting for the climate means first identifying and then reducing the carbon emissions that our activities generate on a daily basis and determining how we can react.
By voluntarily offsetting its unavoidable CO2 emissions, CEPOVETT financially supports socioeconomic projects to reduce greenhouse gas emissions through collaborative reforestation in France, Africa and Asia.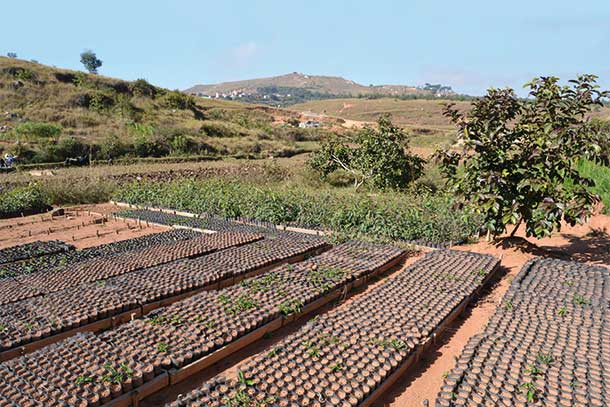 Launch of the reforestation programme in Madagascar100%

French Reforestation10%

20 000 trees planted100%
---
Reforestation, climate and biodiversity : all part of the same fight
Les ODD 13 et 15 fixés par les Nations Unies portent sur la lutte contre le réchauffement climatique et la préservation des écosystèmes terrestres, auxquelles la reforestation contribue.
SDGs 13 and 15 set by the United Nations relate to combating global warming and preserving terrestrial ecosystems, to which reforestation contributes. The aim: to reverse the soil degradation process, and put an end to the decline of biodiversity linked to rampant deforestation. Indeed, forests cover 30% of the planet's surface, ensure food security and provide shelter. They are essential to the fight against climate change and rising global temperatures, and to protecting biodiversity. By restoring forests, we help to sequester the carbon emitted by our activities and protect all living things, plants and animals alike.
"It is our individual and collective responsibility to take action to preserve our island, Madagascar. Today, I am proud to be planting these - Trees of Life - on our family's land, after being given them by the EPSILON company. In a few years, I certainly hope to have grown some nice fruit to share with my family or sell on the market."

"As an extension of our 2030 reforestation program, Cepovett is reaffirming its desire to plant near its various industrial activity zones, particularly in Madagascar and now in France. Choosing to plant in a forest in the Rhône-Alpes region is a strong symbol of a mobilisation against global warming in our field, and promotes the preservation of biodiversity."

"In Madagascar, the forests are endangered. This urgent situation has led us to step up our involvement through our reforestation programme, which began four years ago, by planting varieties of fruit trees to generate additional income for local communities. The involvement of our staff on this collaborative project has allowed us to play an active role and to stress the importance of protecting the local environment for future generations".
OUR CSR ACTIONS
COMMITMENTS & PROJECTS
A CSR POLICY
THAT SERVES OUR COMPANY'S OVERALL PERFORMANCE

For many years, CEPOVETT Group has placed sustainable development at the heart of its business strategy, operational processes and systems, underlining a commitment to socially and economically responsible occupational clothing.

---
Operation "One child, One tree"
Ensuring reforestation in Madagascar
Development objectives
2020

---
Cultivation
20 000 trees planted

---
The practical collaborative
French reforestation