FAVOURING SECURE AND INTEGRATED PRODUCTION
COMMITMENT N°3 - SOCIAL AND WORKING CONDITIONS

Quality controls, social audits, a code of ethics and support for suppliers are the driving forces of responsible production.
All CEPOVETT garment sites comply with the principles of the Global Compact, including employee working conditions, child labour laws, environmental protection and the fight against corruption. CEPOVETT consults with its stakeholders within the scope of carrying out all the necessary risk assessment checks for all of its plants. CSR performance is a contributing factor in the evaluation of our suppliers.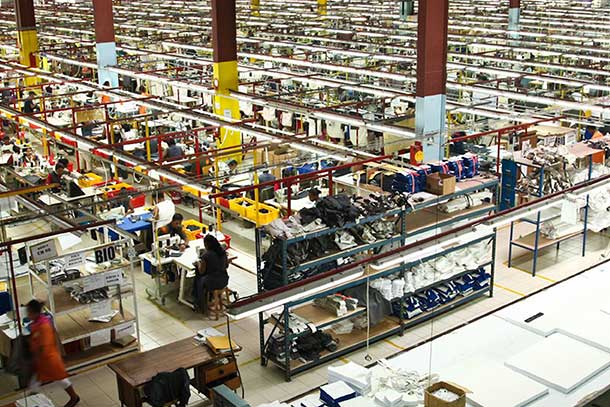 ---
Production with local sourcing60%

Deployment of a parka production line in Madagascar90%

FabLab programme CEPOVETT 40%
---
The LAFONT brand has been chosen by Coêt-MOF to provide uniforms for over 230 occupations.
The Meilleurs Ouvriers de France (Best Craftsmen of France) will be wearing identity-bolstering professional garments by LAFONT, according to the conventions of each profession. For example, the tricolour collar will be embroidered with each person's name, emphasising the strength of individual willpower, passion, knowledge-sharing and creativity in the service of professional excellence. These demanding professions are grouped into 17 business categories, including catering, textile & leather, food, construction... Thanks to the CEPOVETT group's responsiveness and industrial and logistical skills, the LAFONT brand is able to offer a bespoke service, providing French-made customisation and embroidery for the outfits worn by the ambassadors of artisanal excellence in France.
"It is much easier to manufacture a cloth mask than make a pilot shirt or assemble an item of workwear, which require millimetric precision. The challenge is first and foremost to show solidarity in order to support the medical teams, local authorities and our staff in the face of the Covid-19 pandemic spreading across Africa."

"The close cooperation between CEPOVETT Group-Epsilon and W.L. Gore & Associates, which owns the GORE-TEX brand, allows us to develop and certify Epsilon Madagascar for the manufacture of protective clothing. The technical products are manufactured to meet the most complex needs and highest expectations of professionals in the field."

"Completion of a prototype is a key project milestone in occupational clothing production. The experience and expertise of our technical teams ensure that we can optimise workshop output in the shortest time. We are the guarantors of the whole industrialisation process thanks to our close partnerships with manufacturers, who are involved right from the start of a project and throughout the prototype development process until delivery."
OUR CSR ACTIONS
COMMITMENTS & PROJECTS
A CSR POLICY
THAT SERVES OUR COMPANY'S OVERALL PERFORMANCE

For many years, CEPOVETT Group has placed sustainable development at the heart of its business strategy, operational processes and systems, underlining a commitment to socially and economically responsible occupational clothing.

---
Performance improvement
Low-scale serial production with local sourcing
Development objectives
2020

---
Social responsibility
Deployment of a production line in Madagascar

---
The project factory
Cepovett FatLab programme