FAVOURING SECURE AND INTEGRATED PRODUCTION
COMMITMENT N°3 - SOCIAL AND WORKING CONDITIONS

Quality controls, social audits, a code of ethics and support for suppliers are the driving forces of responsible production.
All CEPOVETT garment sites comply with the principles of the Global Compact, including employee working conditions, child labour laws, environmental protection and the fight against corruption. CEPOVETT consults with its stakeholders within the scope of carrying out all the necessary risk assessment checks for all of its plants. CSR performance is a contributing factor in the evaluation of our suppliers.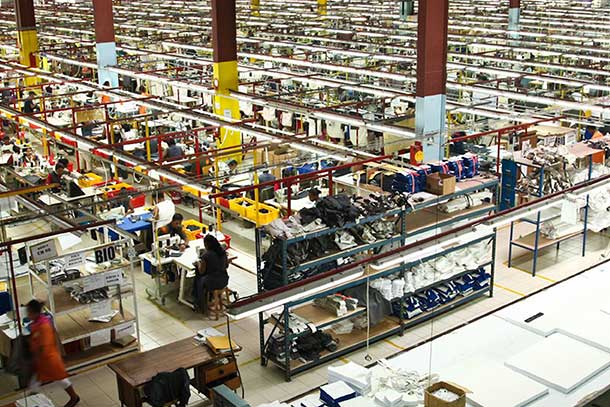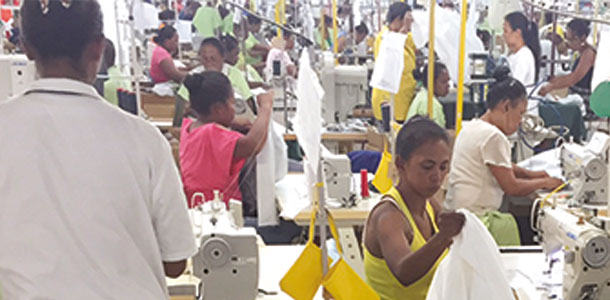 ---
Coronovirus prevention masks Made in Madagascar
Over the course of 2020, several million masks were manufactured in industrial workshops in Madagascar (Epsilon/CEPOVETT).
Several textile production lines were converted to meet the health emergency. This initiative was intended to protect factory staff as well as local populations from the coronavirus. These masks were donated or sold, among others, to the Madagascan security forces as well as to NGOs and neighbouring communes. This rapid, effective adaptation to the health context illustrated the high level of performance and ethical aspect of the production facility in Madagascar. The workshop, with an integrated design office and dedicated resources, was able to make its workforce available to local populations and meet the mask needs of a Madagascan region particularly severely struck by the pandemic.
"In the design office we work together, as specialists, to provide technical know-how, experience in assembling and choosing materials, in compliance with changing regulatory requirements. This unusual period has enabled us to move beyond the technical limits of our profession".

"It is much easier to manufacture a cloth mask than make a pilot shirt or assemble an item of workwear, which require millimetric precision. The challenge is first and foremost to show solidarity in order to support the medical teams, local authorities and our staff in the face of the Covid-19 pandemic spreading across Africa."

"The close cooperation between CEPOVETT Group-Epsilon and W.L. Gore & Associates, which owns the GORE-TEX brand, allows us to develop and certify Epsilon Madagascar for the manufacture of protective clothing. The technical products are manufactured to meet the most complex needs and highest expectations of professionals in the field."

"Completion of a prototype is a key project milestone in occupational clothing production. The experience and expertise of our technical teams ensure that we can optimise workshop output in the shortest time. We are the guarantors of the whole industrialisation process thanks to our close partnerships with manufacturers, who are involved right from the start of a project and throughout the prototype development process until delivery."
OUR CSR ACTIONS
COMMITMENTS & PROJECTS
A CSR POLICY
THAT SERVES OUR COMPANY'S OVERALL PERFORMANCE
For many years, CEPOVETT Group has placed sustainable development at the heart of its business strategy, operational processes and systems, underlining a commitment to socially and economically responsible occupational clothing.

---
Performance improvement
Low-scale serial production with local sourcing

---
Social responsibility
Deployment of a production line in Madagascar

---
The project factory
Cepovett FatLab programme