RAISE AWARENESS DIFFERENTLY
RAISING CONSUMER AWARENESS
COMMITMENT N°10 - STAKEHOLDER RELATIONS

At a time when one in two workers wears a uniform, work clothing represents an intimate link between an organisation and its employees.
It helps to rally and strengthen employees' feeling of belonging to the company culture. Making the employee an active player consists first of all in listening to their needs, analysing the constraints of their workstations and involving them in all the concerns of a new collection. With this in mind, CEPOVETT offers exclusive solutions in collaboration with the users of its clothing.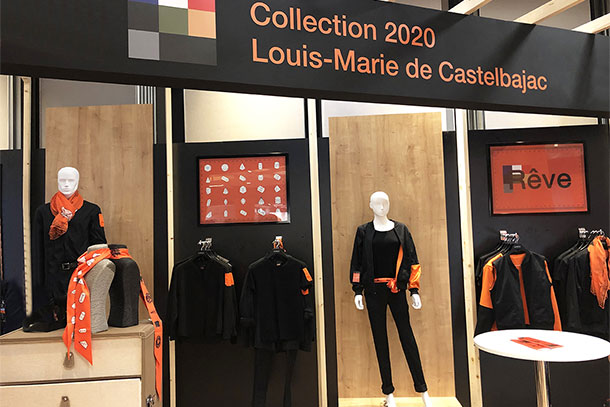 Solidarity partnership with Father Opeka50%

'One child, one tree' programme for the future generations70%

5 CSR projects co-created with our clients 100%
---
Orange 2019 customer convention
Orange is one of the world's leading telecommunication operators.
In 2019, Orange invited its professional clothing and uniform supplier CEPOVETT to its customer convention in Nice. It was an opportunity for the French SME to contribute its textile expertise to a fashion show with the employees during this big event, in order to show everyone the new collection designed by Louis-Marie de Castelbajac.
"Environmental issues and our actions in the circular economy form one of the main areas of our strategic plan. Our image-building outfits are part of this approach: we favour outfits made from certified raw materials. By collecting and then recycling them, we can turn them into new products for us to re-use."

"Recycling is essential to reducing our impact on ecosystems. Here we manufacture technical and ethical clothing, we measure the benefits of our programmes on overall quality, both economically, socially and environmentally, on a daily basis."

"I thank all of those who have welcomed me with so much respect and in a fraternal spirit and who have generously given financial support to allow us to continue this miracle at Akamasoa for 24 years. With these donations, we can offer the children of Madagascar a better future and we can involve them in protecting our planet."
OUR CSR ACTIONS
COMMITMENTS & PROJECTS
A CSR POLICY
THAT SERVES OUR COMPANY'S OVERALL PERFORMANCE

For many years, CEPOVETT Group has placed sustainable development at the heart of its business strategy, operational processes and systems, underlining a commitment to socially and economically responsible occupational clothing.

---
The insurgent of Madagascar
Fair Trade partnership with Father Opeka
Development objectives
2020

---
Project a CSR approach
5 CSR projects cocreated with our clients

---
Protecting future generations
"One child, one tree" inclusive programme to raise awareness among future generations