Actions with our stakeholders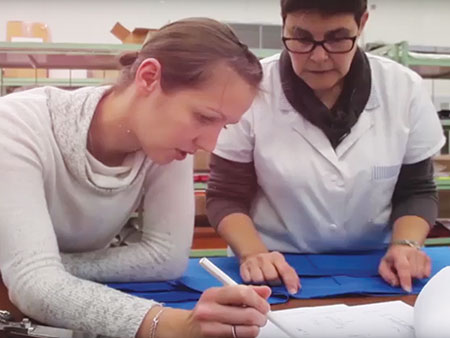 While the health crisis has led to radical changes in the organization of work, CEPOVETT employees have maintained their activities thanks to remote work.
More than ever, human resources teams had a role to play in managing the health crisis, preventing stress among telecommuting employees and preventing employee depression or burnout. In addition, the company has demonstrated its ability to engage its employees around a shared project and unifying values. Affirming its raison d'être, its missions and its post-Covid strategic vision, the company was able to maintain team cohesion despite the distance. The commitment of men and women is one of the major challenges of this post-Covid period and a prerequisite for the resumption of activities. The employer brand is a performance lever for the ambitious CEPOVETT 2022-23 recruitment plan, both for the company's attractiveness to new talent and for the growth of its own employees.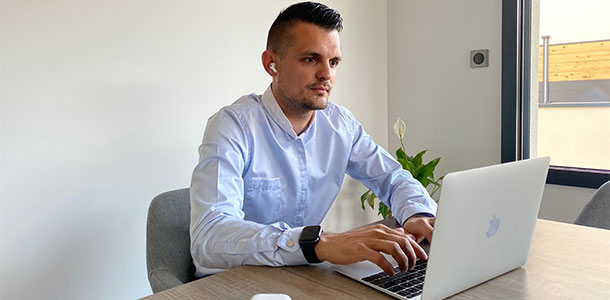 Telework, a factor of modernization of the information system
While telecommuting became widespread during the health crisis, CEPOVETT did everything possible to ensure that its employees were operational and efficient.
Equipped with an IT infrastructure capable of absorbing the increase in server connections, the group quickly deployed secure, collaborative and ergonomic tools. In this way, it has maintained the productivity level of its teams as well as the continuity of services for its customers. Video conferencing has made it possible to maintain contact with internal and external contacts from a distance. The IT teams were also mobilized to assist employees in learning how to use the tools and applications. Finally, data security was ensured by installing a virtual private network (VPN). Although satisfying, the experience revealed that to preserve social ties and team cohesion, new, more interactive solutions - such as instant messaging - should be tried out.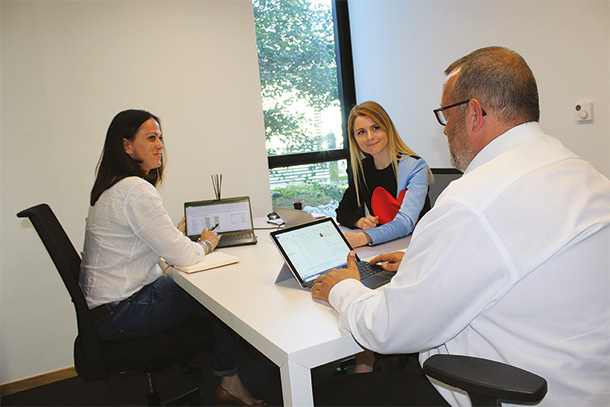 Well-being at work, the virtues of yoga
Well-being at work is a major issue for companies, which are aware that the quality of life at work has a real impact on absenteeism, the attractiveness of the company and its performance. Driven by a committed HR policy, initiatives are being put in place to improve the daily lives of employees, particularly through external collaborations.
Yoga is one of these solutions, offering employees a moment of relaxation and letting go in the workplace. For CEPOVETT, offering yoga sessions was an additional opportunity to create a bond between employees, outside the professional sphere.
This moment of sharing and exchange is particularly appreciated by the teams who have renewed their desire to continue to participate in these sessions, made possible by the company's support.
Our 2019 results
Deployment of an eco-gestures program80%

Collaborative CSR projects60%

Multi-site interactive digital signage90%
Better sharing of information
CEPOVETT Group put an end, this year, to its internal paper newsletter, since it is digitalized. The company has chosen to work differently, by broadcasting interactive and customizable content in real time on large digital screens on its sites in France. With a new interactive information sharing system, it has increased the ability of employees to better share in the life of the company and to interact with each other in a multi-site context. This digital display tool, which complements video-conferencing, allows teams to better communicate their daily activities.
Our 2018 results
Raising awareness of employees on well-being at workteriality 2020 CEPOVETT Group60%

Setting up a collaborative orchard and vegetable garden25%

Wellness barometer20%
In an industrial textile sector in full generational transition where candidates, as well as training, are becoming increasingly rare, CEPOVETT Group makes internal mobility and skills development essential axes of its human resources policy. Through a In the process of structuring the HR function, CEPOVETT Group tends to enhance human capital by insisting on training, sharing "best practices" and transmitting know-how between the most experienced and the youngest. This policy reconciles a vision for the future with day-to-day management. In 2017, operational excellence was a major focus for CEPOVETT Group. Also, the upcoming integration in its new premises will allow to extend the approach undertaken with a real sharing of values between its teams, around its 3 strong brands. Its objective: to unite all employees around its DNA by bringing together all its multidisciplinary teams in a single location. In these state-of-the-art premises, she has found the ideal terrain for the expression of a liberated company.
Our 2017 results
Improving well-being at work60%

Sharing values50%

Prevention of professional risks (risk prevention plan / safety ...)100%
Through its approach of structuring the HR function, CEPOVETT Group carries out a human resources policy in the service of the development of the human capital, turned towards the training, the sharing of the good practices and the transmission of the know-how between the most experienced and the youngest. A policy that reconciles a vision of the future with day-to-day management. In 2016, in a textile industrial sector undergoing a generational transition where candidates and textile training courses are becoming increasingly rare, CEPOVETT Group has made the transfer of know-how and technical skills an essential part of its human resources policy. Pairings between more experienced staff and young professionals starting out in this activity have been set up to guarantee the transmission of knowledge. Some employees are seconded to industrial sites abroad to enable the teams in place to complete their training in a logic of sharing and optimizing skills.
Our 2016 results
Raising awareness of eco-gestures among employees40%

Strengthening the Human Resources Department100%

100% of CEPOVETT Group sites connected by an interactive display20%
A committed social policy
CEPOVETT Group gathers 250 employees on 5 sites in France: Gleizé, Andrézieux-Bouthéon, Paris, Saint Quentin, and Bagnols-sur-Cèze. Through its external growth policy, the group has pursued a human resources policy focused on training, sharing best practices and passing on know-how between the most experienced and the youngest. In 2015, CEPOVETT Group complied with its obligations in terms of integrating people with disabilities into its workforce, facilitating their integration and professional development. The maintenance of green spaces is notably carried out by establishments of services of help by work.