SUPPORT EMPLOYEE DEVELOPMENT
AND DIVERSITY
COMMITEMENT N°2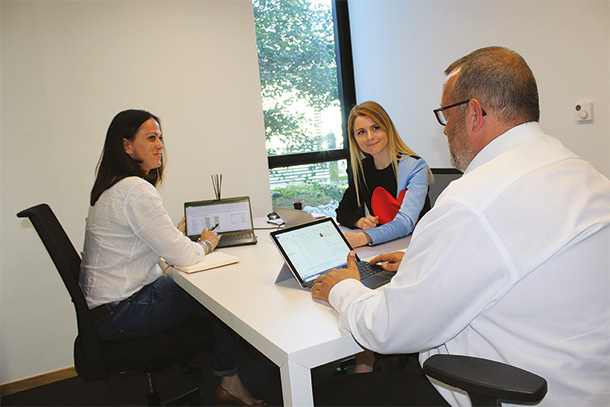 Report 2020
Workplace well-being: the benefits of yoga
Workplace well-being is a major issue for businesses. They have realised that quality of life at work has a real impact on absenteeism, and on a company's attractiveness and performance. Underpinned by a committed HR policy, initiatives are being taken to improve employees' everyday life, especially through external collaborations.
Yoga in particular is one of these solutions, giving employees a chance to relax and let go for a while at their place of work. For CEPOVETT, offering yoga sessions was an additional opportunity for extra-curricular staff bonding. This moment of sharing and interaction is particularly appreciated by the teams, who are keen to continue attending these sessions. The company made the scheme possible by covering the costs involved.

Better sharing of information
CEPOVETT ended its internal paper newsletter this year, and it will now be available exclusively in digital format. The company has chosen to work differently, by broadcasting interactive and customisable content on big screens in real time at its sites in France. Thanks to a new interactive information sharing system, it has increased employees' ability to better enjoy their work life, and to interact with each other in a multi-site context. This digital display tool, which complements videoconferencing, allows teams to better communicate their daily activities.
2019 Results
Deployment of an eco-action programme 80%

Collaborative CSR projects60%

Interactive, digital multi-site display90%
Human resources policy
With the textile industry in the midst of generational transition, where candidates and training opportunities are increasingly rare, CEPOVETT has made internal mobility and skills development the cornerstones of its human resources policy. By structuring the role of HR, CEPOVETT aims to promote human capital development through training programmes, sharing best practice and the transfer of knowledge and expertise from more experienced staff to new and recent recruits. This policy meets the everyday needs of management while staying true to our vision for the future.
In 2017, operational excellence was a key theme for CEPOVETT. The upcoming move to new premises will sustain this approach, with staff demonstrating genuine commitment to shared values across its three main brands. The aim is to unite all staff around the company's shared DNA, with multi-disciplinary teams all working together under one roof. Our new, latest-generation offices are the perfect location in which our vision will thrive.
2018 Results
Raising collaborators'awareness of well-being at work60%

Setting up a collaborative orchard and vegetable garden25%

Well-being scale20%